Check Eligibility for filing Online Transfer Claim To file a EPFo Online Transfer Claim online, the member ID should be available in EPF database and your employer should have registered the digital signatures of his authorized signatories with EPF on the portal. Follow below points to know whether you are eligible to file a online Transfer Claim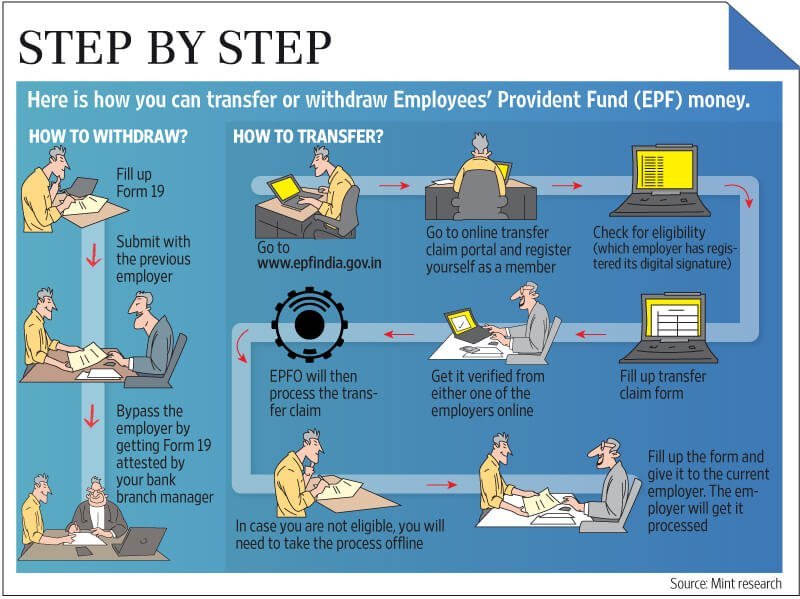 EPFO

Online Transfer ClaimVery Easily ..
Online Transfer Claim Application
Follow the steps given below to fill Online PF Transfer Claim Application.
Step 1:- Sign in to the UAN Member Portal with your UAN and Password.
Step 2:- From the top menu bar, click on the 'Online Services' tab  and select 'One Member – One EPF Account (Transfer Request)' from drop down menu.
Step 3:- Once you click on the 'Transfer Request' tab, a page will open, where all your personal details will be shown. Verify that all your personal details like EPF number, date of birth and date of joining are correct. Otherwise, the claim will not be processed.
Step 4:- Once you verify your personal details, go to Step 1 where you need to provide the details of the previous employer. But before that you need to select the option – previous employer or present employer – through which you want to do the claim form attestation.
Step 5:- After you fill in the details of previous employer and submit, an OTP will be sent to your registered mobile number. Once you authenticate your identity by entering the OTP, the request will be submitted and an online filled-in form will be generated. You need to sign the form and send it to your present or previous employer.
Step 6:- The employer will also get an online notification about the EPF transfer request. After verification of your employment details, the employer can digitally forward the claim to the EPFO office, which will process the claim.
Step 7:- After you submit the online claim, you can check the status of your EPF transfer claim under the 'Track Claim Status' menu, which is under the 'Online Services' menu.
If you need any service to know the EPF Transfer Request enquiry. you can contact us, and you can also fill out the form below. Fill the Transfer Request form.
Note : If You Want Help For The Employees Provident Fund Organization, They Can Comment Down Your Questions And Problems Below, Or If You Want Any Information From Our Team Then Also Comment Below.
नोट : जो भी कर्मचारी भविष्य निधि संगठन से सम्बंधित कोई सुचना चाहता हैं! वो अपने प्रश्नों को और समस्याओं को नीचे कमेंट कर सकते हैं और अगर आपको कर्मचारी भविष्य निधि संगठन से रिलेटेड कुछ पूछना हो तो भी आप इस वेबसाइट पर कमेंट कर सकते हैं!